EB Peel-Off Base Coat G
No nail remover needed! A peel off base coat for gel nails that easily peels off and removes gel nail polish.
※click on image to enlarge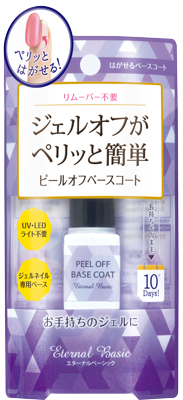 Prepare nails by wiping clean any dust and oil residue on nails with a gel cleanser before using the product. If the gel nail polish does not easily peel initially, do not force it off. Apply some nail oil between the nail surface and gel nail polish ,then gently peel off.